Circular Polarizing Filter
HR Digital CPL super MC
Digital pro CLP MC
When light is incident on a surface, it is partly reflected. With a slanting incidence of light, it is also more or less polarized provided that the surface is not electrically conductive like glass, plastic or lacquer or is hardly electrically conductive like water (whose conductivity is low relative to that of metals). The polarization increases with the angle of incidence, reaches a maximum at around 55° and then drops again. Electrically conductive surfaces, e.g. blank metal, do not cause polarization. If the metal is lacquered or has an insulating coating, polarization arises at the insulating layer.
A polarization filter only transmits light oscillating at a specific direction without hindrance; in the case of light oscillating obliquely there to, only the portion oscillating in this direction; it is therefore attenuated. Light oscillating transversely to the direction of polarization is blocked.
Photo without filter:
Strong reflectionson the glossy varnished surface cause colors to fade 
Photo with Circular polarizer:
Reflections removed, colors clear
Consequently, reflections can be reduced or even fully eliminated at an ideal angle of incidence of around55°. Conversely, reflections can also be amplified up to twice the brightness, e.g. for more intensive sun reflections on water, using the filter if it is rotated by 90° from the maximum attenuation. The blue light of the sky reflected e.g. from red roofs, green grass and foliage is polarized. Landscape shots taken with a polarization filter therefore allow the blue tinge to be reduced and thus produce a better color saturation for purer colors.
The Circular Polarization Filter requires 1.5 f/stops as a correction.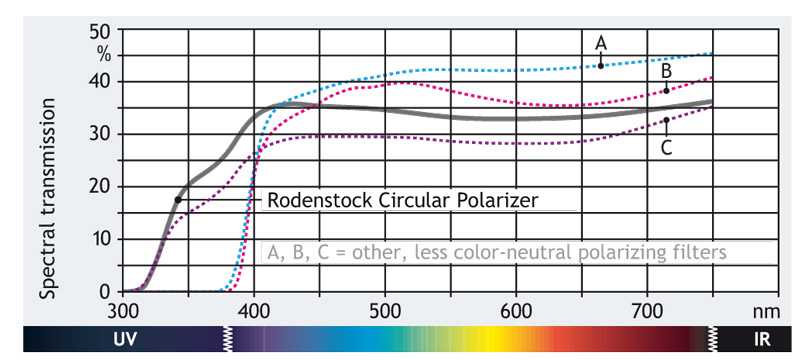 HR Digital CPL super MC
Best optical glass · perfect optical surface quality · multi-coated ·high polarizing efficiency · color neutral transmission · extremely scratch resistant · liquid and dirt-repellent coated · rugged slimbrass ring with front thread · wide-angle  compatible·
Sizes: 49 | 52 | 55 | 58 | 62 | 67 | 72 | 77 | 82 | 86 | 95 mm
 Digital pro CPL MC
Best optical glass · perfect optical surface quality · multi-coated ·high polarizing efficiency · color neutral transmission · very scratch resistant · rugged slim ring with front thread · WA compatible ·
Sizes: 49 | 52 | 55 | 58 | 62 | 67 | 72 | 77 | 82 mm