UV Blocking Filter
HR Digital UV super MC
Digital pro UV MC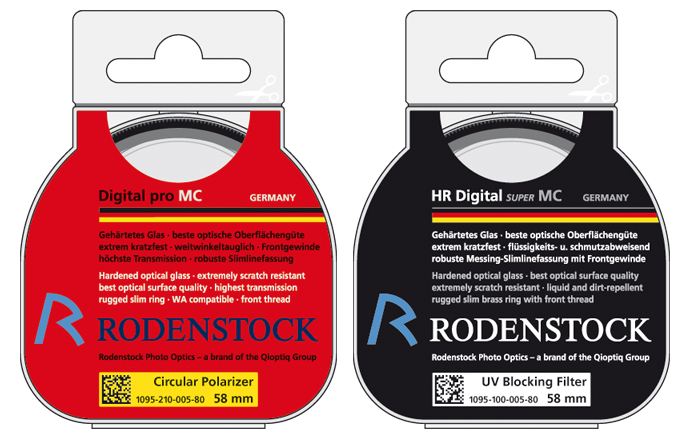 Far views show a bluish tinge, reduced contrast and a lack of sharpness because normal lenses are not corrected for UV radiation and because sensors or films react almost in the same way to UV as to blue-violet light. Rodenstock UV blocking filters block the UV radiation with a steep flank exactly at the border to visible light, that is extremely efficiently and have perfect color neutrality. Due to the perfect color neutrality, Rodenstock UV blocking filters are also ideal protective filters which can stay on the lens at all times. The UV blocking filters of the HR Digital line are furthermore characterized by a waterrepellent coating at which water rolls off and oil, fingerprints and other contamination adhere less.
Photo without filter:
Distant view has low contrast and a bluish cast
Photo with UV blocking filter:
Distant view has more contrast and is color neutral
Rodenstock UV blocking filters belong in every bag of photographic accessories. They are also free of vignetting with wide-angle shots because they have a thin, slimline frame. They have a front thread and so the protective cap or a lens hood or a further filter can be screwed on as required. No exposure correction is necessary due to the high transmission.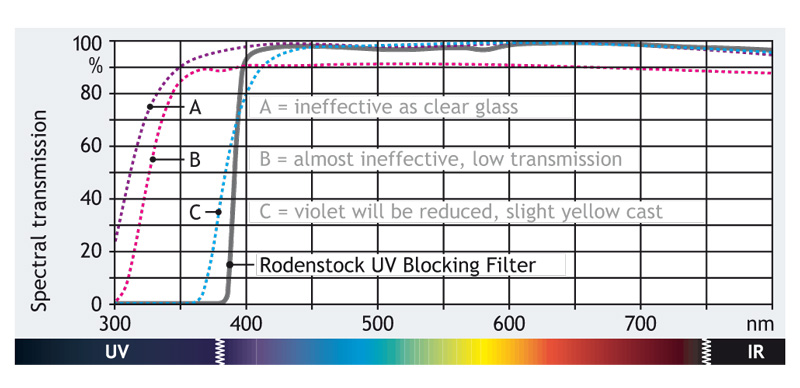 HR Digital UV super MC
Best optical glass · perfect optical surface quality · multi-coated ·high transmission from 400 nm on · total blocking of UV · extremely scratch resistant · liquid and dirtrepellent coated · rugged slimbrass ring with front thread · wide-angle compatible ·
Sizes: 37 | 39 | 40,5 | 43 | 46 | 49 | 52 | 55 | 58 | 62 | 67 | 72 | 77 | 82 | 86 | 95 mm
Digital pro UV MC
Best optical glass · perfect optical surface quality · multi-coated ·high transmission from 400 nm on · total blocking of UV · scratchresistant · rugged slim ring with front thread · WA compatible ·
Sizes: 34 | 37 | 40,5 | 43 | 46 | 49 | 52 | 55 | 58 | 62 | 67 | 72 | 77 | 82 mm